LIFEPAK Redi-Pak Electrodes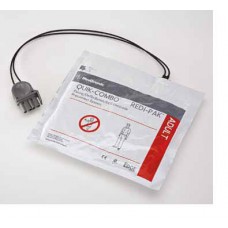 Brand:
Physio Control
Product Code:
11996-000017
Reward Points:
0
Availability:
100
Price: AU$60.50
Ex Tax: AU$60.50
Physio Control LIFEPAK Redi-Pak EDGE System Electrodes with QUIK-COMOB connector and REDI-PAK preconnect system.
A small section of the cable and the connector is provided outside the electrode package to enable pre-connect of your therapy electrodes thus reducing the time to defibrillation.
EDGE System electrodes feature a unique design provided to reduce the incidence of burning from defibrillation shock.
These electrodes are multi-fuction so can be used to deliver therapy, monitor and pace a patient.
18 months minimum shelf life remaining at the time of shipping
Important Links: