First Aid Kits
First Responder Group Pty Ltd provides a comprehensive range of first aid kits to suit your needs. You can choose to purchase a soft pack, hard case or portable kit. You can also choose to purchase just the case and fill it yourself.
This kit is constructed of durable material and includes items that conform to workplace code of ..
This first aid soft pack is assembled to meet workplace level 1 requirements. The kit inlcu..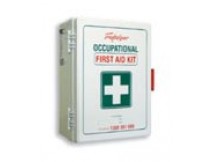 This wall mount first aid kit is constructed of tough ABS plastic and is designed to meet the nee..
Showing 1 to 3 of 3 (1 Pages)